Democrats seized governor's mansions in Virginia and New Jersey plus a host of other wins at county,
city and state level but challenges remain before midterms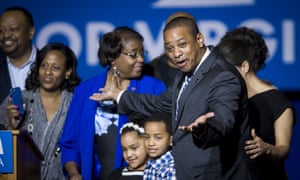 Democrats were celebrating on Wednesday after winning big in governor, state legislative, county and mayors' races across the country on a night full of symbolism, a year to the day from Donald Trump's election as president.
It was the party's most cheering night at the ballot box since Barack Obama's re-election five years ago. They handed Republicans what Obama once memorably called a "shellacking" when on the receiving end. They now have the wind at their backs for the 2018 midterm elections and a decent shot at taking back the House of Representatives.
"The Democratic party is back, my friends," the Democratic national committee chairman, Tom Perez, declared.
It was a stinging rebuke to Trump as he arrives in China in an attempt to play global statesman. The so-called resistance had shown it could amass vast women's marches and skewer the president with witty epigrams on Twitter. Now it heeded Obama's plea to go beyond hashtags and memes by showing up. "This is what happens when the people vote," Obama tweeted.
The results also represented a corrective, a restoration of some kind of equilibrium and a reminder that America as a whole did not make a sudden lurch to the populist right on 8 November 2016. Trump lost the popular vote by nearly 3 million that day and won the Oval Office because of the arcane electoral college. Republican strategists warned at the time that this was hardly grounds for confidence in total dominance for all time, although Trump celebrated it again with a tweet on Wednesday: