O'FALLON, Mo. (KMOV.com) – A man turned in his teenage son after finding inappropriate pictures of a toddler on his phone.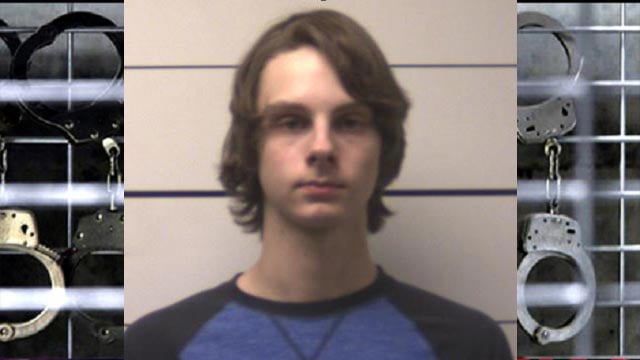 Tristan Blasius is charged with possession of stolen guns and materials to make homemade explosives after his father turned him in. (Credit: St. Charles Police)
Andrew Spensberger, 17, was charged with possession of child pornography after photos of a 2-year-old were found on his cell phone, according to the O'Fallon, Missouri Police Department. The 2-year-old was reportedly a relative of his dad's girlfriend.
Police investigators said Spensberger planned to sell the photos for cash.
Spensberger's bond was set at $10,000.O'FALLON, Mo (KMOV.COM) – A St. Charles County teenager is charged with possession of stolen guns and materials to make homemade explosives after his father turned him in.
On May 9, police arrested Tristan Blasius, 17, after his father discovered weapons including knives, firearms, ammunition and materials to manufacture "homemade" explosives in their basement.
Investigators from O'Fallon Police and the St Charles County Bomb Squad responded and discovered seven homemade devices along with an "old peanut butter jar full of fertilizer," according to the charging documents.
Members of the bomb squad determined the devices to be "functional improvised explosive devices designed to throw fragmentation upon detonation," said investigators.
Blasius' family described the devices as more like fireworks. In a statement provided to KMOV, they said "Tristan has been very cooperative. We are doing everything we can to work through this as a family."
After his arrest, police said Tristan Blasius admitted to stealing all the firearms from residents in the St. Charles County homes.
According to the police report, "During the interview, Blasius told me that he had researched ammonium nitrate explosives. Blasius explained he had an old peanut butter jar of fertilizer that he has used the fertilizer in an attempt to detonate this type of explosive but it failed."
Blasius is charged with two felonies, including unlawful possession of an illegal weapon and stealing firearm/explosive weapon/Ammonium Nitrate. In Missouri, 17-year-olds are charged as adults. The teen does not have any prior record, according to court documents.
Investigators tell News 4 the teen was not in school and at this point there is no indication of an intended target or indication of what he planned to do with the explosives and guns.
Blasius remains in St. Charles County Jail held on $25,000 bond.