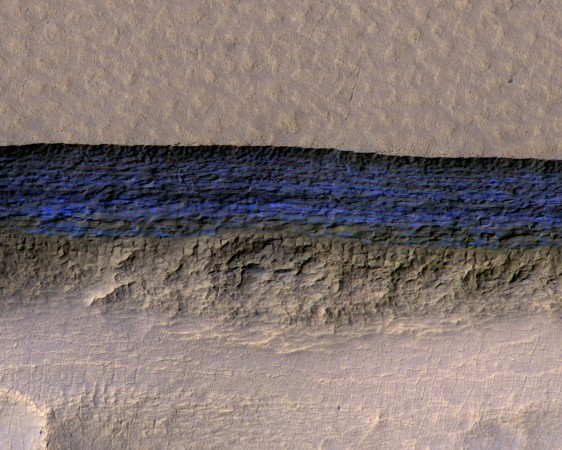 Researchers previously believed that Martian surface might have absorbed water on the Red Planet. However, in a game-changing development, scientists have discovered huge ice sheets on Mars and they believe that it could provide an unlimited supply of water for the humans.
The frozen water near the Martian surface was detected using images from NASA spacecraft Mars Reconnaissance Orbiter currently orbiting Mars. With the help of the images, scientists found out that there are eight sites that appear to have huge ice deposits on steep slopes.
Scientists have always believed that a third of Martian surface contains shallow ground ice, but the latest discovery of huge ice sheets in at least eight sites serves is sort of a "game-changer." Researchers have found that there are pure ice sheets that extend up to 100 meters deep.
Colin Dundas, a geologist at the US Geological Survey in Flagstaff, Arizona, and his co-authors studied the image and discovered the steep cliffs that appeared to be pure ice. They also believe that the different cliffs could hold a record of past Martian climates."Mars is cold and dry, with most of the H2O in the form of ice, and a little water vapour in the atmosphere," Colin Dundas, lead author of the study from the US Geological Survey's Astrogeology Science Center, told IBTimes UK.