Jeff Sessions's tenure as attorney general shows how far to the right the Republican Party has swerved under Trump.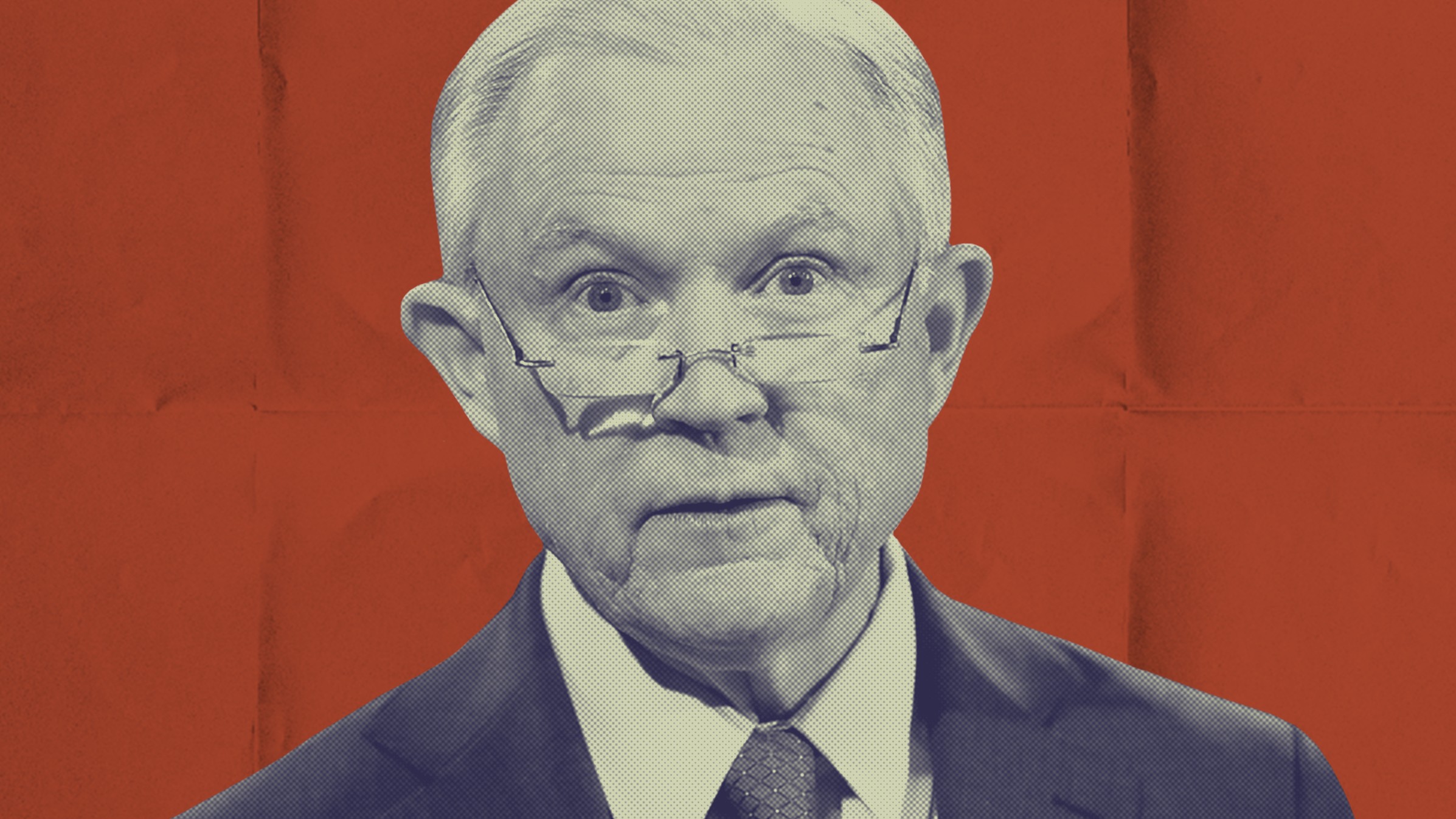 illustration by Lia Kantrowitz
This article is part of a weeklong series looking back at the first year of Donald Trump's presidency.
To judge Donald Trump's presidency, we should ask what he's done that a generic Republican president wouldn't have. A Marco Rubio, a Jeb Bush, or a Ted Cruz would have almost certainly pulled out of the Paris Climate Accords, supported a massive expansion of the defense budget, undermined the Iran nuclear deal, and signed into law a massive corporate tax cut. All of them would have tried to repeal the Affordable Care Act. However, it's unlikely that any other Republican president would have installed Jeff Sessions as attorney general, a decision that will reshape policy and politics over the next decade.
It's hard to overstate just how radical Sessions's appointment was. As a senator from Alabama he was firmly on the right-wing fringe of the Republican Party, not just an opponent of illegal immigration but a supporter of reductions to legal immigration, which has been at least mildly taboo in the pre-Trump GOP. Every president leaves their footprint on the party they lead, and Trump's vision for the Republican Party is to make it more openly white supremacist and authoritarian. While his so-called "populist" initiatives like infrastructure have mostly been left by the wayside, he has been able to use the executive branch to re-shape immigration and criminal justice policy in a way that will set racial justice back decades. And Sessions is the man who is implementing all that.
Another core policy goal for Sessions is to weaken the voting power of people of color. During his tenure, he has shifted the DOJ's position on voter ID laws and voter purges, signaling a renewed commitment in the GOP to maintain electoral power by undermining democracy.
Finally, Sessions has taken a hammer to the First Amendment, targeting anti-racist organizing as "black identity extremists" while letting white nationalists off the hook. He made the comments criticizing "political correctness" on campus in a campus venue from which students were barred from attending while condemning" NFL players protesting racial inequality. The Sessions DOJ spent nearly a year trying to imprison a woman for a brief chuckle during his confirmation hearing.
It bears repeating that these sorts of policies represent a shift in how Republican officials conduct themselves. Though Republicans have always dog-whistled on race and pursued policies that brutalized people of color, they also attempted to court voters of color, at least at times. George W. Bush discussed microaggressions at the 2000 Republican National Convention and tried to push forward on immigration reform. In the past, the party's rising stars (like Rubio) saw immigration reform as the future, but now senators like Tom Cotton openly discuss their desire to limit legal immigration and present legislation—endorsed by Trump—to do so. Sessions once praisedthe Immigration Act of 1924, a law that also won kudos from Adolf Hitler inMein Kampf.
The good news is that the Republican Party's embrace of white nationalism will come at an electoral cost. Young voters are more liberal on issues of racial justice, and independents are moving in that direction as well. But another impact is that heightening the racism in the GOP will send a stronger signal to people of color that the party doesn't welcome them. If people of color begin to see their interests as tied up with their identity, they will become more liberal. Among Latinos with a high sense of "linked fate" (believing that things that happen to other Latinos affect them personally "a lot" or "some"), 14 percent supported Trump in an analysis I did of the two-party vote share. Among Latinos with a low sense of linked fate (believing that things that happen to other Latinos affect them "not very much" or "not at all"), 38 percent supported Trump.
The effect of linked fate overwhelms class politics, which is important when it comes to Latinos. According to ANES data, among Latino voters who make less than $60,000 a year, 15 percent supported Trump, but among Latinos making $60,000 or more a year, 32 percent supported Trump. However, the chart below (also using ANES data) shows that high-identity Latinos don't become more conservative at higher incomes, whereas among low-identity Latinos, high income is associated with more support for Trump. Political science research suggests that more strict immigration laws increases a sense of linked fate among Latinos. And data from political scientist Brian Schaffner shows thatlevels of linked fate among Latinos increased dramatically after Trump's election.
So even as Trump turns the Republican Party into a more explicit and crude vehicle for white identity politics—with Sessions as his right-hand man—the country may turn away from these politics. That, at least, is the hope.