The shootings took place about 100 kilometers from a ceremony filled with pomp and circumstance, remarks by President Donald Trump's daughter and son-in-law, and a video address from Trump himself.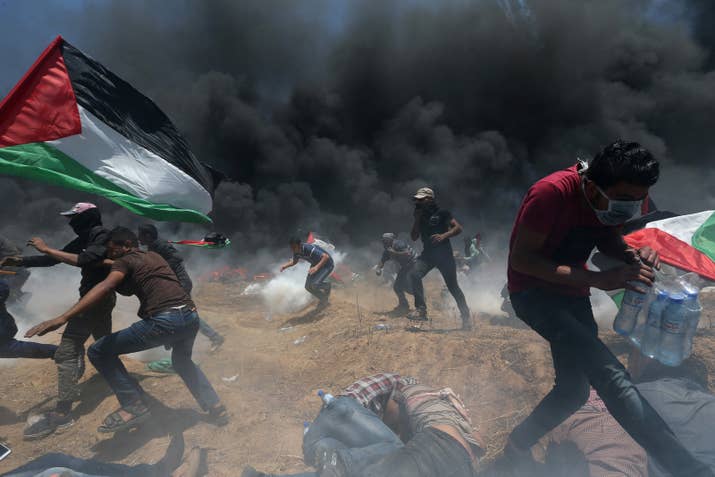 Dozens of Palestinian protesters were shot dead by Israeli forces Monday as the US officially opened a new embassy to Israel in Jerusalem.
It was a stark juxtaposition: The massacre took place about 100 kilometers from a ceremony filled with pomp and circumstance, remarks by President Donald Trump's daughter and son-in-law, a video address from Trump himself, and his live tweets:
The embassy move has been long promised by Trump and praised by Israel, but it has been widely condemned by Palestinians and many in the Arab world.
According to the Palestinian Health Ministry in Gaza, 52 Palestinian protesters were killed and more than 1200 injured by Israeli troops firing at demonstrators along the Gaza border. Dr. Ashraf Al-Qudra, the ministry's director of public relations, confirmed the number on Facebook and earlier said that the "martyrs" had been killed as a result of "Zionist assaults".
In a list of what Al-Qudra claimed were those killed in Monday's conflict, the victims ranged from 14 to 39 years of age.
The Palestinian Authority accused Israel of committing a "terrible massacre". Turkey's deputy prime minister, Bekir Bozdağ, also
referred
to the attacks as a massacre.
In a statement, the UN Committee on the Elimination of Racial Discrimination said it was "alarmed by the disproportionate use of force" by Israeli troops.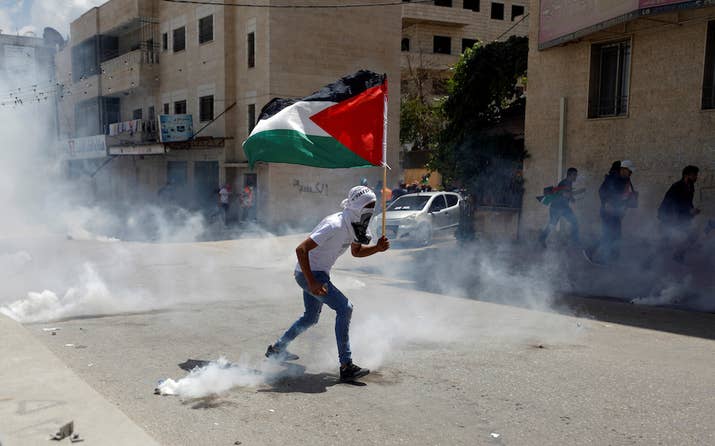 The EU's high representative of the foreign affairs, Federica Mogherini, called for all involved to "act with the utmost restraint to avoid further loss of life." In a statement she also referred to dozens of Palestinians, including children, being killed and hundreds more "injured from Israeli fire." The UK and France both called for restraint.
The Israel Defense Force said on Twitter that some 35,000 Palestinians were taking part in protests on Monday and that it was "responding with riot dispersal means and fire, and are operating according to standard operating procedures," in response. The IDF also claimed that "rioters" were throwing firebombs and explosives into Israeli territory.
"The IDF will not allow any damage to security infrastructure & is to defend and ensure the security of Israeli civilians," it said.
As the protests continued, an Israeli Airforce plane struck five targets, which it referred to as "Hamas terror organization targets in a military training facility in northern Gaza.
It said the air strike was in retaliation to "the violent acts carried out by Hamas over the last few hours along the security fence."
At an event to mark the embassy's opening, the US ambassador to Israel, David Friedman, said: "Today's historic event is attributed to the vision, the courage and the moral clarity of one person to whom we own an enormous debt of gratitude, President Donald J. Trump."
The mention of the president drew a standing ovation. Later, there were chants of "Trump! Trump! Trump!"
Trump said via videolink: "Israel is a sovereign nation which like any other sovereign nation has the right to determine its capital. But for too many years we have ignored the plainly obvious reality that Israel's capital is Jerusalem.
"Our greatest hope is for peace. The US remains fully committed to facilitating a peace agreement."
Trump's daughter Ivanka and her husband Jared Kushner — both White House advisers —appeared at the ceremony at the current US Consulate in Jerusalem, which from today will be the official US Embassy in the country. The event was attended by several high-ranking Israeli religious figures and politicians, including Benjamin Netanyahu, Israel's prime minister.
"This is history! President Trump: By recognising history you have made history," he said. "Thank you President Trump for keeping your promises."
Netanyahu paid tribute to Israel's army and security services, who were "protecting the borders of Israel as we speak today."
Kushner, addressing the ceremony, said: "By moving our embassy to Jerusalem we have shown the world once again that US can be trusted. We stand with our friends and our allies, and above all else we have shown that the USA will do what's right and so we have.
Referring to the peace process, he said: "The pursuit of peace is the noblest pursuit of humankind. The way things were is not how they must forever be.
"It will not be an easy road... but if we dream big and if we lead with courage we can change the trajectory for millions."
Human rights watchdogs Amnesty International and Human Rights Watch condemned the IDF's actions on Monday, calling it "an abhorrent violation of international law & human rights" and "a bloodbath."Trump broke with decades of US policy when he formally recognized Jerusalem as Israel's capital in December last year, fulfilling a campaign promise he made before his 2016 election.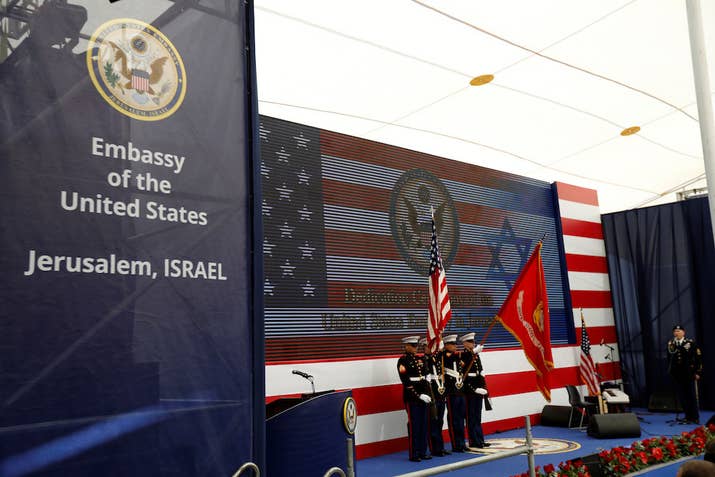 Monday's ceremony was brought forward to coincide with the 70th anniversary of the establishment of the state of Israel, or what the Palestinians commemorate as Nakba Day — Day of the Catastrophe. It could be many years until the US Embassy relocates permanently to a new site, however.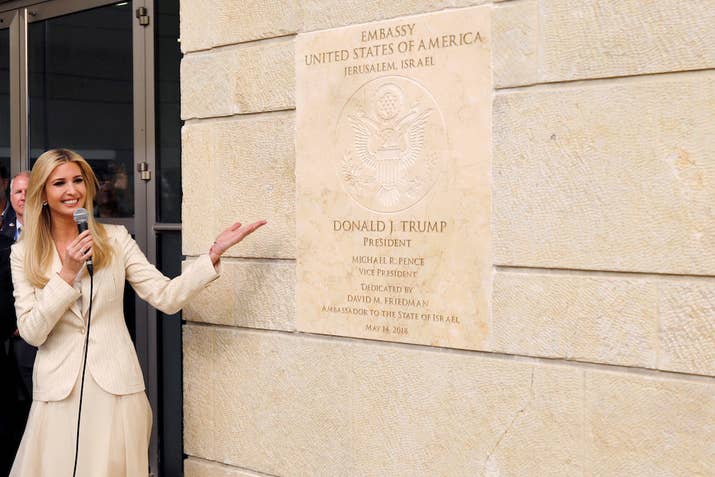 Trump said last year that recognizing Jerusalem as Israel's capital was a "necessary condition to achieving peace." Congress passed a law in 1995 that required the US to relocate its embassy from Tel Aviv, but successive presidents before Trump deferred it on security grounds.
The decision to recognize Jerusalem as the capital and relocate the embassy has been sharply criticized by all major US allies except Israel.
A gala event Sunday night ahead of the embassy ceremony was snubbed by most countries, with Austria, the Czech Republic, Hungary, and Romania the only EU countries to send representatives.
Israel has occupied East Jerusalem, which the Palestinians would regard as their capital in any future state, since 1967, building a dozen settlements that are home to 200,000 Jews and are considered illegal under international law.
A State Department statement ahead of the formal opening of the embassy said, "As the President stated on December 6, 2017, the historic opening of our embassy recognizes the reality that Jerusalem is the capital of Israel and the seat of its government."
The statement added, "We are not taking a position on final status issues, including the specific boundaries of Israeli sovereignty in Jerusalem, nor on the resolution of contested borders."
Delivering the opening prayer for the embassy ceremony will be Robert Jeffress. In a tweet, former Republican presidential nominee Mitt Romney dubbed the pastor a "bigot".Jeffress appeared to respond to this charge with his own tweet early Monday, arguing that his beliefs were "neither bigoted nor newsworthy."