Democrats also had sharp words for the president following a press conference with Russian President Vladimir Putin.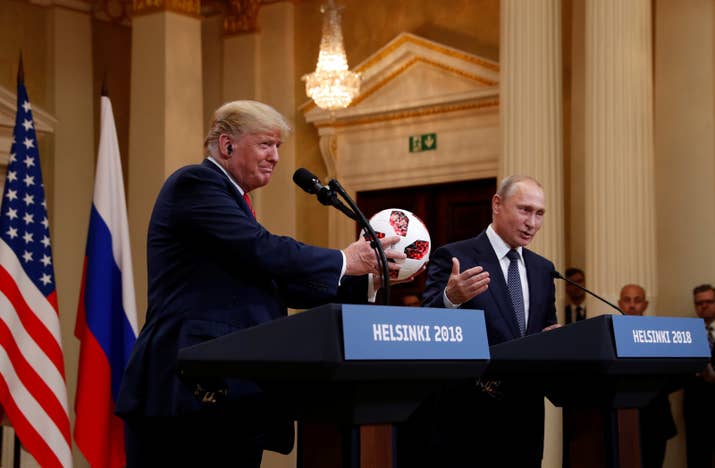 Senators called President Trump a "disgrace" following
his
first summit meeting
with Russian President Vladimir Putin, where the president publicly cast doubt on the findings of his country's own intelligence agencies, who say Russia interfered with the 2016 presidential election.
"I have President Putin; he just said it's not Russia. I don't see any reason why it would be," President Trump said, after being given multiple opportunities to agree with the findings of US intelligence agencies or condemn Russia's alleged meddling in domestic elections.
Instead Trump said, "President Putin was extremely strong and powerful in his denial today."
Sen. John McCain said
it was "one of the most disgraceful performances by an American president in memory," calling the summit "a tragic mistake."
Some Republicans in Congress were also confused by the missed opportunity to confront Putin and others questioned Trump's trust in the Russian President over his own agencies.
Rep. Adam Kinzinger, an Illinois Republican, wrote that the "American people deserve the truth," and that to disregard the country's intelligence agencies was a "disservice" to those people who serve. "It's time to wake up & face reality. #Putin is not our friend; he's an enemy to our freedom."
"Missed opportunity by President Trump to firmly hold Russia accountable for 2016 meddling and deliver a strong warning regarding future elections," wrote Republican Sen. Lindsey Graham.
"This answer by President Trump will be seen by Russia as a sign of weakness and create far more problems than it solves," he continued.
In a
statement
, Rep. Trey Gowdy, a South Carolina Republican, said, "Russia is not our friend." Gowdy said he is confident those in the FBI, DOJ, CIA, and others, including Trump administration appointees, can "communicate to the President it is possible to conclude Russia interfered with out election in 2016 without delegitimizing his electoral success."
Sen. Susan Collins, a Maine Republican,
said
the president's "position is untenable and at odds with the forceful response the moment demands."
Other members of the Congress were also quick to condemn the president's statements, calling the moment a "missed opportunity" and a "disgrace."
Democratic Sen. Mark Warner of Virginia
said
, "For the President to side with Putin over his own intelligence officials and blame the United States for Russia's attack on our democracy is a complete disgrace."
Massachusetts Sen. Ed Markey, a Democrat, also called it a "disgrace," adding that "#Helsinki Humiliation" was a "national embarrassment."
"Putin got everything he could have wanted from this meeting, while the U.S. got nothing," Markey wrote.
Massachusetts Sen. Elizabeth Warren
echoed
Markey, writing that Putin "must be held accountable — not rewarded." Warren also said President Trump embarrassed the US on the international stage and undermined our institutions, weakened our alliances, and embraced a dictator.
Virginia Sen. Tim Kaine
called
the press conference with Putin "a sad, shameful moment for our great nation."
Others saw it as another sign that Russia has compromising information on President Trump.
Senate Minority Leader Chuck Schumer wrote on Twitter, "Millions of Americans will continue to wonder if the only possible explanation for this dangerous behavior is the possibility that President Putin holds damaging information over President Trump."
Ahead of the summit, Sen. Ben Sasse, a Republican,
said
the president should have only one message for the Russian President: "Quit messing with America."
Former CIA director John Brennan said Trump's statement "exceeds the threshold of 'high crimes & misdemeanors'" and that his actions were "nothing short of treasonous."
"Not only were Trump's comments imbecilic, he is wholly in the pocket of Putin," Brennan wrote.