Just hours before the meeting, Trump tweeted that relations between the US and Russia have "never been worse." After the meeting he said it was a "good start."
President Donald Trump had a one-on-one meeting with Russian President Vladimir Putin for over two hours on Monday, a highly-anticipated sit-down that came just days after federal officials charged Russian military with hacking Hillary Clinton's 2016 presidential campaign.
The two met privately at the Presidential Palace in Helsinki for 2 hours and 10 minutes, Russian officials told the pool reporter. The White House confirmed the two met for "about two hours."
After the meeting, US and Russian delegations sat down to lunch in the palace's Hall of Mirrors. Responding to a reporter's shouted question about how the meeting went, Trump said, "I think it's a good start. Very, very good start for everybody."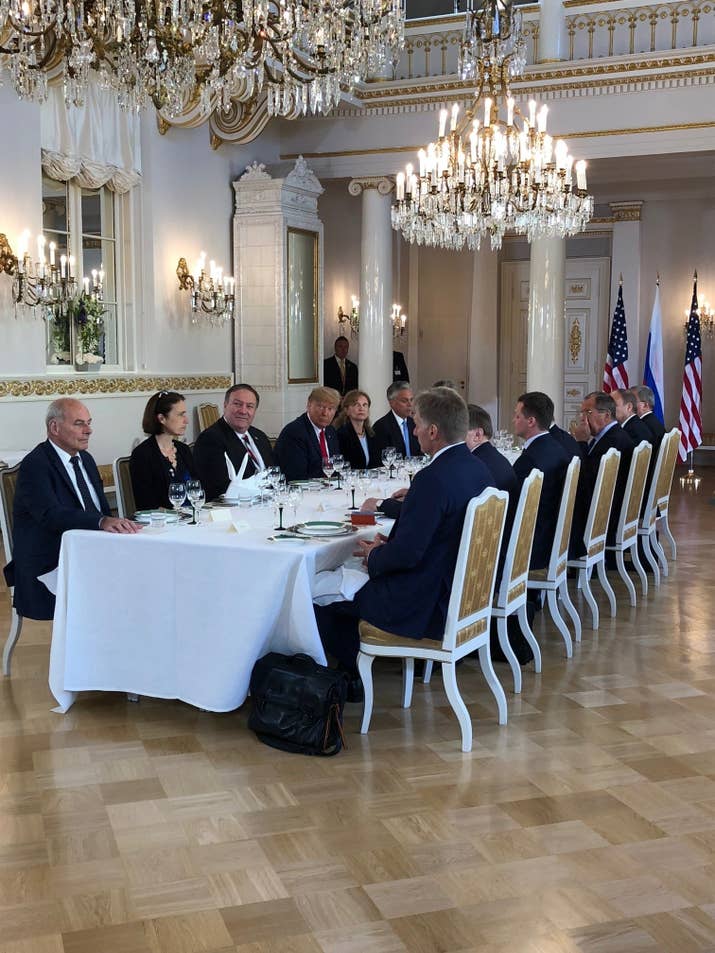 They'll hold a press conference soon. The talks are expected to touch on the role of NATO, the Syrian crisis, Russia's presence in Crimea, and nuclear proliferation.
"We have great opportunities together. We have not been getting along very well for the last few years… but I think we can end up having an extraordinary relationship," Trump said while sitting with Putin before the one-on-one meeting.
"I really think the world wants to see us getting along," he said. "We are the world's two great nuclear powers. It's not a bad thing, it's a good thing."
Putin called the meeting part of "continued constant contact" between the two.
Trump also congratulated Putin on the World Cup, which took place in Russia and ended Sunday, an listed items the pair would discuss, mainly focusing on international relations and military matters. There was no mention of Russia's meddling in US politics.
Putin said, "The time has come to talk thoroughly about bilateral relations as well as various hotspots in the world," according to a translation from AP.
Trump tweeted earlier on Monday that relations between Russia and the US has never been worse, but he attributed this to "years of U.S. foolishness."
While Putin was en route to the meeting, Russia's Foreign Ministry responded to Trump's tweet to simply say "we agree."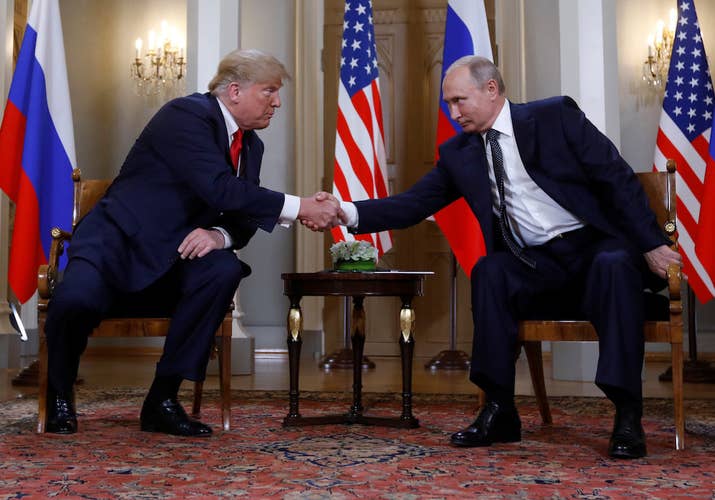 Putin left Trump waiting for about an hour, according to the White House pool reporter – the official greeting was scheduled to start at 1:10 p.m. local time, but the Russian president's plane didn't touch down until just after 1p.m.
Large protests are expected to accompany the talks, just as some 100,000 people turned out to protest Trump's London visit.
Prior to the second joint press conference between Trump and Putin, a protester was removed from the press area, holding a sign that read, "Nuclear Weapon Ban Treaty."