The judge asked Manafort if he wanted to testify. "No sir," Manafort replied.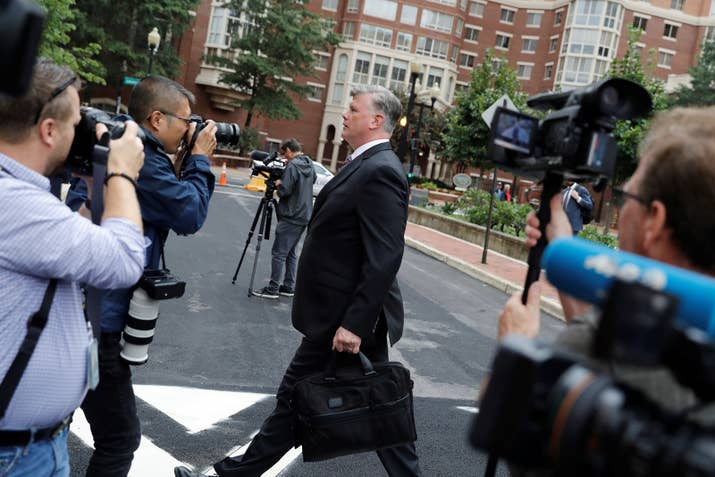 Paul Manafort won't present any witnesses of his own to the jury, his lawyers told the judge Tuesday morning.
US District Judge T.S. Ellis III then called Manafort to the stand to confirm that Manafort understood his consitutional right to remain silent. Ellis asked if Manafort wished to testify.
"No sir," Manafort replied.
The announcement came after Ellis denied Manafort's request to acquit him of all the charges. Manafort's lawyers had argued the government failed to show that one of the banks Manafort is accused of defrauding, Federal Savings Bank, relied on information about his finances that prosecutors say was false or fabricated. More generally, the defense argued prosecutors failed to show Manafort acted willfully when it came to the rest of the bank fraud, tax, and failure to report foreign bank account charges.
"In the end, I think the defendant makes a significant argument about materiality," Ellis said. "But in the end, I think materiality is an issue for the jury."
Special counsel Robert Mueller's office rested its case on Monday, putting on two final witnesses, one of whom had already testified and was brought back for a handful of questions.
On Tuesday, the lawyers spent about two hours in a closed proceeding before the judge allowed the press and members of the public into the courtroom. The often loquacious judge has not given any indication as to what the sealed issue is about.
The lawyers are expected to spend the rest of Tuesday discussing the final set of instructions that the judge will read to the jury before they go back to deliberate.
Closing arguments are expected to start Wednesday morning. Lawyers on both sides previously asked for two hours each, which Ellis bristled has at. On Tuesday, he urged them to reconsider — two hours was "a little excessive," he said — and see if they could cut down their presentations to an hour and a half apiece.