It says to stop looking for her.
Someone created a fake Facebook page that claims missing college student Mollie Tibbetts purposely ran away.
Mollie, 20, vanished without a trace in Iowa on July 18, leaving family members, friends, and police puzzled and many questions unanswered. Babe.net uncovered a Facebook page under Mollie Tibbett's name that created late last month.

She already had an account.
The user behind the account is unknown and continues to post that Mollie left everything behind to be with a mystery man.

Most of the posts on the page seem to be made by the man she allegedly ran away with and not by Mollie.
"Mollie wants to be here," a post from Aug. 1 reads. "I don't know why everyone wants to take her away from me. I've waited so long for this. No one is going to ruin this for us."
Some of the posts go into more detail, explaining that Mollie is unable to use her former profile so she made a second one.
"There are 2 reasons I created this page," a post from July 28 reads. "I wanted friends, my boyfriend and family to know I am ok."
The other reason is because I am no longer able to gain access to my Facebook profile to communicate with anyone. My guess is that investigators have taken it over in an effort to find me. I just want to be left alone right now. Thank you."
Police have theorized that Mollie knows whoever she is with, whether she was taken or went willingly.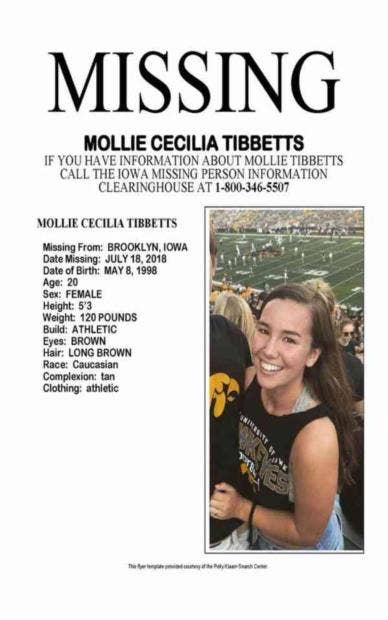 "To have a complete stranger to come into a small town like this, someone would have come forward and mentioned that they've seen this person," Mary Ellen O'Toole, a former FBI profiler and director of the forensic sciences program at George Mason University, told Fox News.
"She was likely not kidnapped.

She either got into the car of someone she knew or had a relationship with, or it was someone who had a non-threatening demeanor.

"
Mollie's

' boyfriend, Dalton Jack, is not convinced she ran off on her own accord.
"This is not like her," Jack said last week. "If this is her running off, nobody would've seen it coming. Nobody in the world. Not her family, not me -- nobody would've ever guessed that she just take off and not tell anybody."