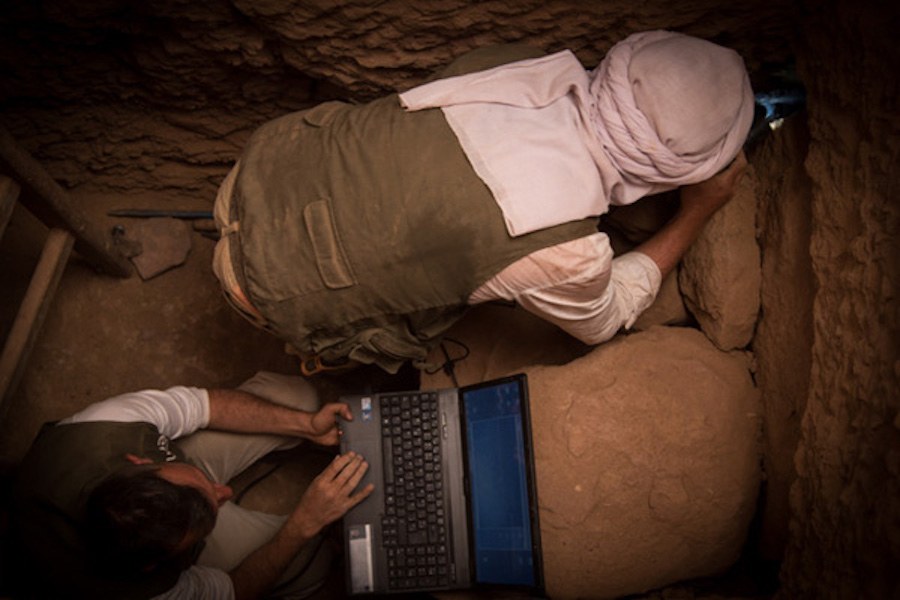 Archaeologists examine the recent discovery.
The tomb belonged to the younger brother of a powerful Egyptian governor.
A team of archaeologists has just discovered an ancient royal Egyptian tomb that has remained remarkably untouched by time.
Alejandro Jiménez-Serrano of the University of Jaen told Ahram Online that his team found a well-preserved mummy inside a 3,800-year-old tomb, as well as a stunning polychrome cartonnage, or the face mask and painted collar associated with Egyptian mummy coverings. The mummy rests in two coffins — an inner and an outer coffin — made out of cedar.
The tomb also contains other goods such as various pottery items and wooden models, which, according to Ahram Online, depict scenes of daily Egyptian life.
The tomb belongs to Shemai, the young brother of Sarenput II. The latter was a very powerful Elephantine governor who served as a general in the Egyptian military and was in charge of several different religious cults dedicated to a variety of gods, according to Ahram Online.
Serrano told Ahram Online that he hopes this discovery will further develop existing knowledge about the Elephantine ruling family.
Serrano added that 14 other family members have been discovered in the Qubbet El-Hawa funeral area, and that when taken together their find may provide unique insights into the lives of Ancient Egypt's elite.