The death toll has risen to at least 38 since the storm struck Friday, amid devastating flooding, tornadoes, and other hazardous conditions.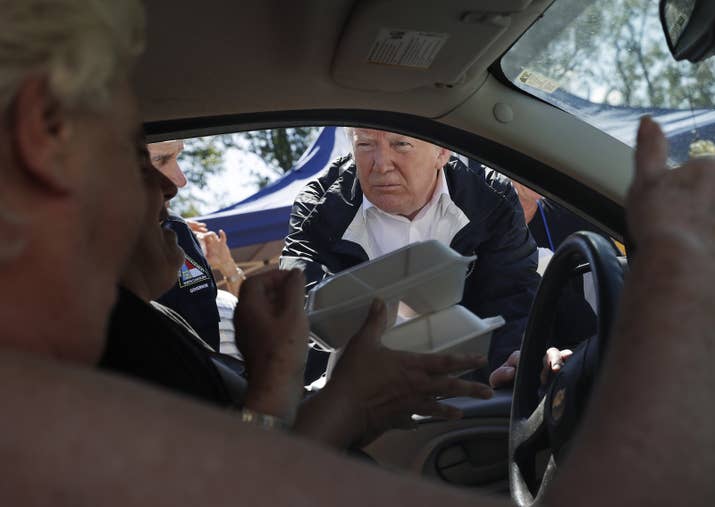 What we know so far
Hurricane Florence made landfall on the North Carolina coast at 7:15 a.m. ET Friday with 90 mph winds. It weakened to a tropical storm by that afternoon and by Sunday was classified as a tropical depression.

At least 27 deaths have been linked to the storm in North Carolina, while at least eight people have died in South Carolina. The deaths of three people have been linked to the storm in Virginia.

President Trump is expected to visit the Carolinas on Wednesday.

Florence brought record rainfall and catastrophic flooding as it slowed to a crawl over land. Forecasters said the storm could produce more than 40 inches of rain in parts of the Carolinas.

Millions of people were evacuated in North and South Carolina ahead of the storm, with most coastal areas under mandatory evacuation orders.

Follow BuzzFeed News reporters Zahra Hirji and Ellie Hall for live storm coverage.
Trump handed out food and greeted residents in New Bern, North Carolina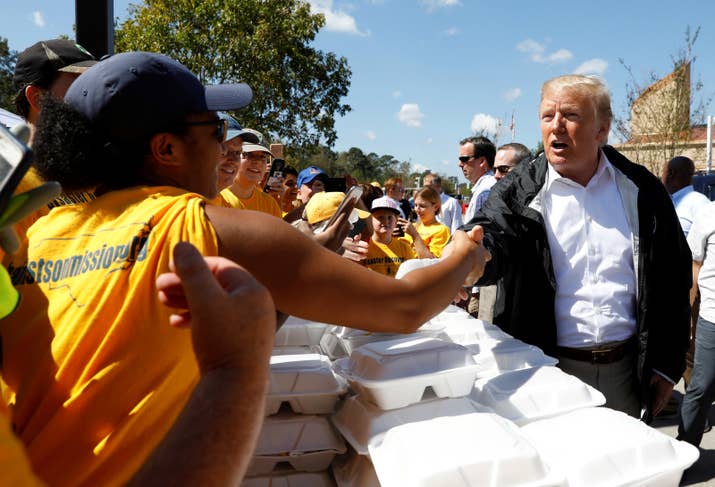 President Trump handed out food and shook hands with residents in New Bern, North Carolina, while touring storm damage with Gov. Roy Cooper and other state officials.
More than 800 residents had to be rescued from New Bern after Hurricane Florence made landfall in nearby Wilmington. The area was inundated with heavy rain, causing the Neuse and Trent rivers, which surround the town, to flood. Officials estimated that roughly 4,300 homes and 300 business were damaged or destroyed.
Trump and the group of officials visited a damaged residential area and stopped by distribution center to hand out food.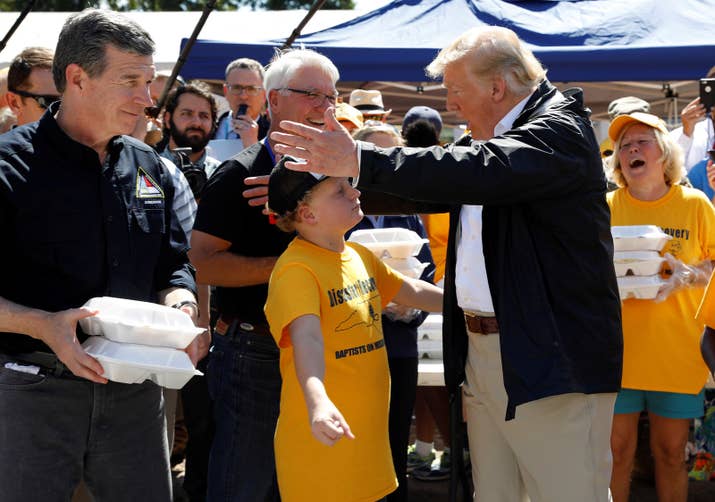 At one point, Trump stopped to ask about a large boat that had washed ashore next to a house.
"Is this your boat?" Trump asked.
When the owner said no, Trump replied, "At least you got a nice boat out of the deal."
"I think it's incredible what we're seeing," Trump later told reporters. "This boat just came here."
"They don't know whose boat that is," he added. "What's the law? Maybe it becomes theirs."
Trump asked North Carolina officials how his golf course was doing after the storm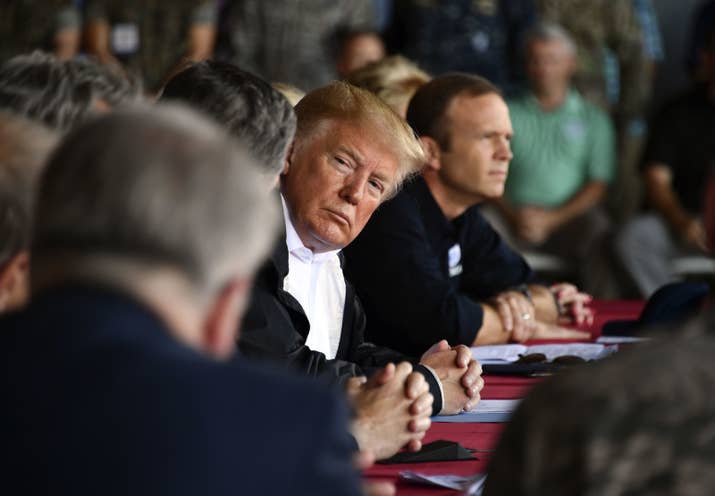 President Trump asked about the area in North Carolina where he owns a golf course during a briefing with federal and state officials on the impact of Hurricane Florence.
"How is Lake Norman doing?" Trump asked. "I love that area. I can't tell you why, but I love that area."
Trump National Golf Club is located in Mooresville, North Carolina, next to Lake Norman.
At least 27 people have died in North Carolina as a result of the storm.
"Our state took a gut punch, Mr. President, and our people are still reeling," said North Carolina Gov. Roy Cooper. "We've lost 27 lives, officially, so far and some more are under investigation, and we mourn their loss. We have farmers who have lost significantly their crops. A lot of businesses are down. And of course people have lost their homes. We have about 10,000 people right now in shelters."
Trump responded by using a golf reference to describe pending relief efforts.
"We're getting all teed up for a lot of money to come down to the area," he said.
According to Trump's statement:
Nearly 20,000 federal and military personnel are supporting the National Guard with relief efforts

More than 3,000 people have been rescued

More than 1.6 million meals have been delivered to North Carolina, with an additional 400,000 meals ready for South Carolina

1.2 million customers have had power restored
Trump, however, said he expected "a rough two weeks" in the aftermath of the storm.
"People don't realize how a very difficult phase is beginning today with the beautiful sunshine," he said.
North Carolina is still dealing with significant flooding as rivers continue to rise in the aftermath of Florence's heavy rain, and officials have warned residents to be cautious about returning home.
"Some of the flooding is actually epic, hard to believe," Trump said. "And we've seen all the pictures where houses are literally covered beyond the roof. You don't even know there is a house there."
Trump will visit North Carolina and tour areas impacted by Hurricane Florence today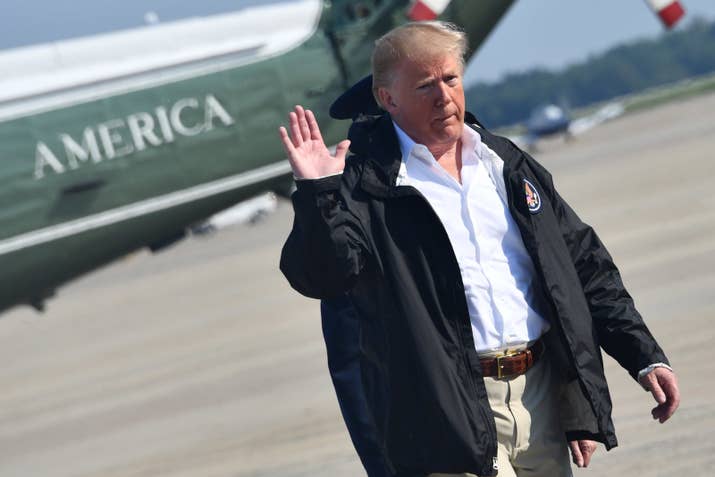 President Trump will meet North Carolina Governor Roy Cooper for a briefing on recovery efforts from Hurricane Florence on Wednesday morning. They will then tour areas impacted by the hurricane.
Trump thanked disaster relief workers in a video posted to his Twitter account on Wednesday morning, and said that Hurricane Florence was "one of the wettest we've ever seen, from the standpoint of water."
Two "detainees" drowned in a law enforcement van trapped in South Carolina floodwaters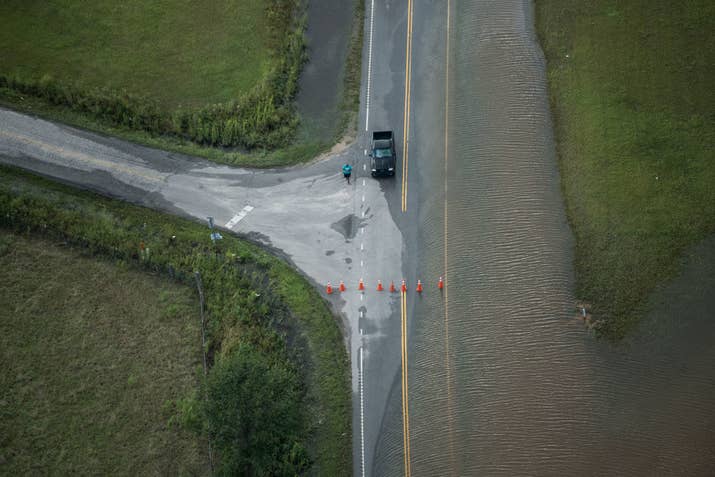 Two detained women who were being transported by law enforcement Tuesday were killed when the vehicle they were riding in was overtaken by floodwaters in South Carolina.
The Horry County Sheriff's Office was transporting the individuals from facilities in Conway, just north of Charleston along South Carolina's coast, to a hospital further inland, when the vehicle they were riding was submerged, authorities said Tuesday.
The two sheriff's deputies traveling in the vehicle tried to rescue the victims, Holden said, but were unable to open the doors as floodwaters rose rapidly. The deputies were rescued from the top of the van by a team of first responders.
Hurricane Florence has caused hog poop lagoons to breach and overflow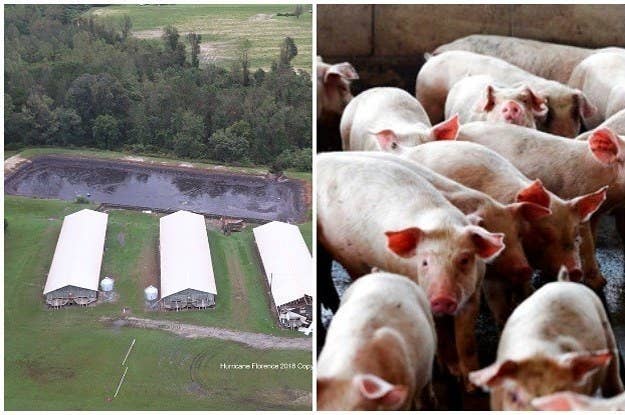 At least two hog waste lagoons in North Carolina have been breached; two others have been damaged; and several others have overflowed and flooded due to Hurricane Florence, raising activists' concerns about health and environmental hazards.
The two lagoon breaches occurred on farms in Duplin County and Sampson County, Megan Thorpe, a spokesperson for North Carolina Environmental Quality, told BuzzFeed News on Tuesday. Two others have structural damage, but the extent is unclear.
At least 13 other swine lagoons have overflowed, nine are flooded, and around 55 are on the brink of overflowing, as of Tuesday afternoon, according to NCEQ.
Rising floodwaters are still a major concern in North Carolina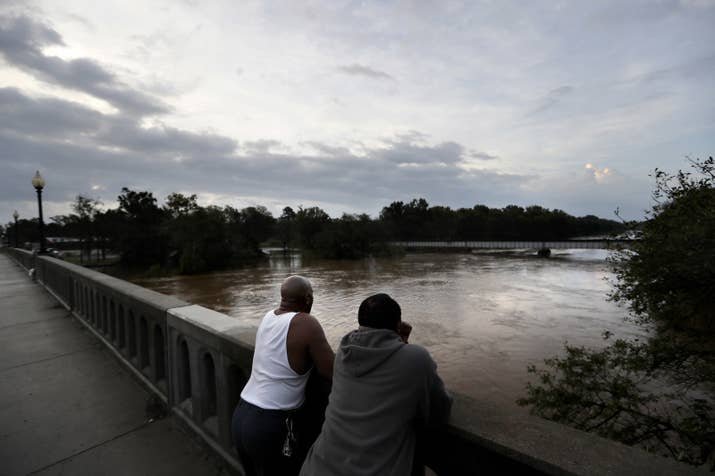 Rainfall from what remains of Hurricane Florence continues to cause widespread flooding in North Carolina, where residents have been watching Cape Fear River swell to dangerous levels.
The river is expected to reach a record height on Tuesday when it crests at about 62 feet, according to the National Weather Service. The flooding point of the river is 35 feet.
"I just can't believe it, but the Lord has a plan," Craig Williams, his property in Fayetteville soaked by floodwaters, told BuzzFeed News.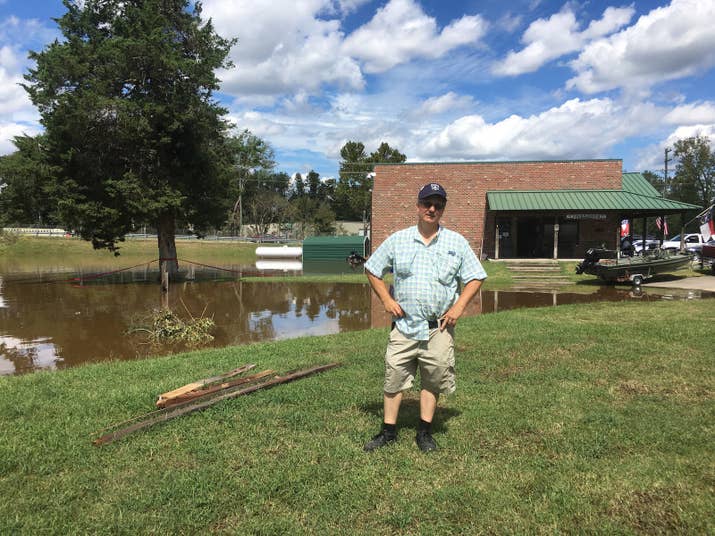 Everything on his first floor was moved up 4 feet, but he is worried about further flooding.
"This is a record-breaker, more than Matthew," he said, referring to the Category 5 storm that hit the East Coast in 2016.
Still, he said everyone's trying to keep their spirits up. On Tuesday, he helped stage a cookout to feed onlookers.
"We've got high spirits," Williams said. "We know this is ground zero for the river and knew people would want to do a viewing of it."
Among those keeping an eye on the river was Brain Carter, from south of Fayetteville in the Beaver Dam area. He and his wife lost power for a few days, but it returned Sunday.
"The one thing that helped everyone this time is there's more advanced warning, the state was more prepared," he said. "They did a good job. "
The rainfall has caused more than just flooding, however. The city of Greensboro said Tuesday that an estimated 63,000 gallons of untreated wastewater overflowed from a sanitary sewer main over the weekend and in a tributary of the Cape Fear River basin.