Texas Rangers to join investigation into officer-involved shooting inside Dallas apartment building
A manslaughter warrant is being issued for a Dallas police officer who police say shot and killed a man after entering an apartment unit she believed was her own Thursday night.
Dallas Chief of Police U. Renee Hall announced the warrant during a news conference early Friday afternoon and added that a blood sample will be drawn from the officer to test for drugs and/or alcohol.
Police haven't released the name of the officer, who wasn't injured.
Hall said police were notified of an officer-involved shooting at the South Side Flats just before 10 p.m. Thursday, about one block from the Dallas Police Department Headquarters.
Hall said as the investigation unfolded the details of the incident created "a very unique situation."
Hall said the Dallas Police Department has ceased normal protocol for investigating officer-involved shootings and has invited the Texas Rangers into the investigation.
Earlier in the morning, Dallas Sgt. Warren Mitchell said the officer was heading home after working a full shift when she mistakenly entered a neighbor's apartment home.
After entering the unit, she was confronted by a 26-year-old man, identified by the medical examiner's office as Botham Shem Jean. At some point, the officer fired her weapon, hitting him, police said.
Hall said Friday afternoon the nature of the interaction between the officer and Jean was unclear.
Officers responded to the scene and began to treat the victim, Mitchell said. He was transported to a hospital where he was later pronounced deceased.
"He did no one any wrong," Allie Jean, the victim's mother,

told NBC News

in a phone interview from her home in St. Lucia. "Somebody has to be crazy not to realize that they walked into the wrong apartment. He's a bachelor. Things are different inside."
Jean, a native of St. Lucia, worked in Dallas for PricewaterhouseCoopers and attended Harding University where he frequently led church services and campus events, school officials said.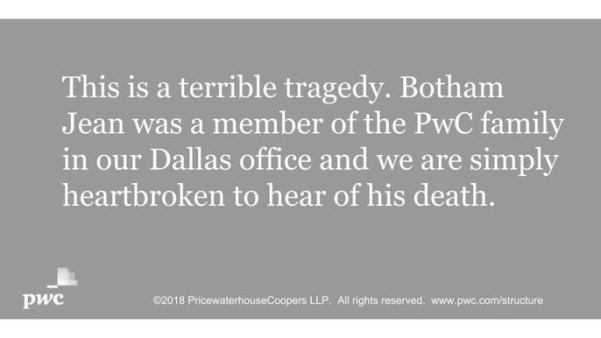 "The entire Harding family grieves today for the loss of Botham Jean, who has meant so very much to us," a

university statement read

. "Please join us in praying for Botham's friends and family."
A large Dallas police presence was at the apartment overnight into Friday morning as the department's special investigation unit processed the scene.
Neighbors

told The Dallas Morning News

they heard the commotion of police responding to the shooting. "We heard cops yelling," 20-year-old Caitlin Simpson said. "But otherwise had no idea what was going on."
Many residents told NBC 5 they chose to live at the complex because they believed it was safe, but now they are doubting that.
"I never expected anything like this to happen," resident Tomiya Melvin said.
Melvin says residents take elevators to their floors and the hallways all look the same so it could be a simple misunderstanding.
"It's more than a tragedy because that person is gone forever and this is going to be forever in that person's [officer's] mind and be embedded," Melvin said.
Another resident, Rachel Colon, said that a key fob is needed for every floor.
Resident Raquel, who declined to give her last name, said she saw blood at the apartments. Doors have either alarm codes, key fobs or regular keys to get inside, Raquel said.
A third resident, named Bridget, said residents' keys only work for their own doors. She also confirmed that residents have to manually lock their doors when they leave.
"I hope they investigate and figure out what happened," Bridget said.
The Dallas District Attorney's Office has joined the investigation into the shooting.
"We still have a lot to do in this investigation," Mitchell said.