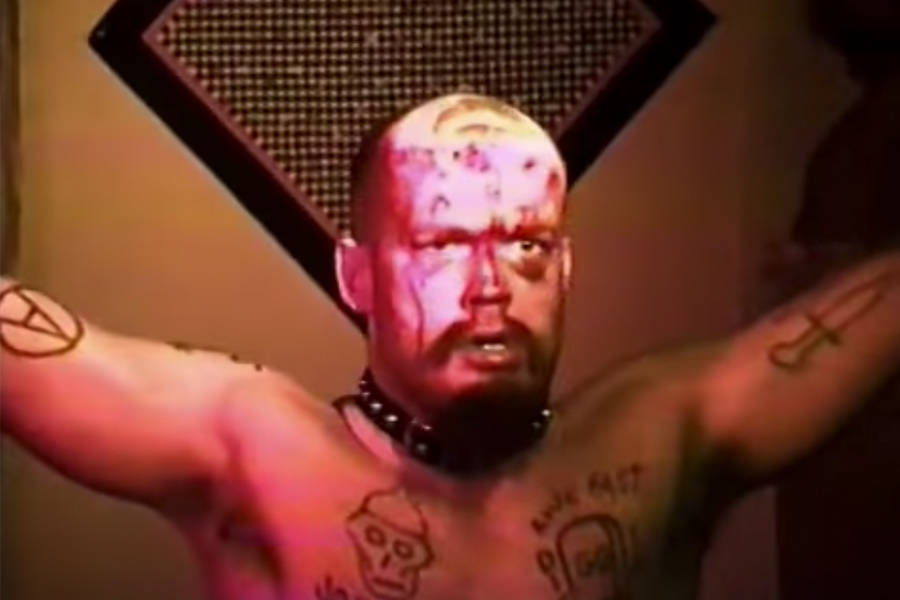 GG Allin
Many words have been used to describe GG Allin. 'Individualist,' 'anti-authoritarian,' and 'unique' are among the nicest. 'Violent,' 'chaotic,' and 'madman' are some others.
All those identifiers are true, but if you asked GG Allin how he would describe himself, he'd say just one thing: that he was "the last true rock and roller." And, depending on your definition of rock and roll, he might have been.
From his humble roots in rural New Hampshire, to being on stage and defecating (yes, defecating) in front of thousands, one thing was for sure: GG Allin was definitely something.
His Early Life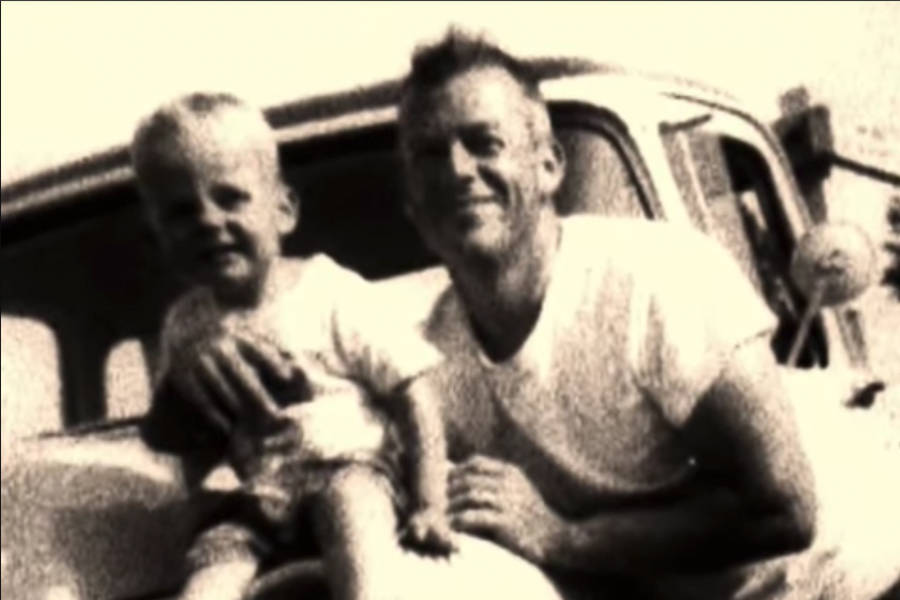 GG Allin and his father, Merle Sr.
Long before he was cross-dressing, sparking riots, and exploring the world of hardcore punk, GG Allin was living an entirely different sort of life. Born Jesus Christ Allin in 1956, GG grew up in Groveton, N.H. The Allin family's patriarch was a religious fanatic named Merle, and they lived in a log cabin devoid of electricity and running water.
Merle Allin was reclusive and abusive and routinely threatened to kill his family. He would dig "graves" in the cabin's cellar to prove how serious he was. The younger Allin described living with Merle as a primitive existence, likening it to a prison sentence rather than an upbringing. Nonetheless, he was ultimately thankful for it, as it "made him a warrior soul at an early age."
Eventually, Allin's mother Arleta got out and moved to East St. Johnsbury, Vt., taking with her Jesus Christ and his brother Merle Jr. Jesus became "GG" after Merle Jr. was unable to pronounce "Jesus" correctly. It kept coming out "Jeejee." In the end, GG stuck. In 1966, after remarrying, Arleta officially changed her son's name from Jesus Christ to Kevin Michael, though he continued to go by GG.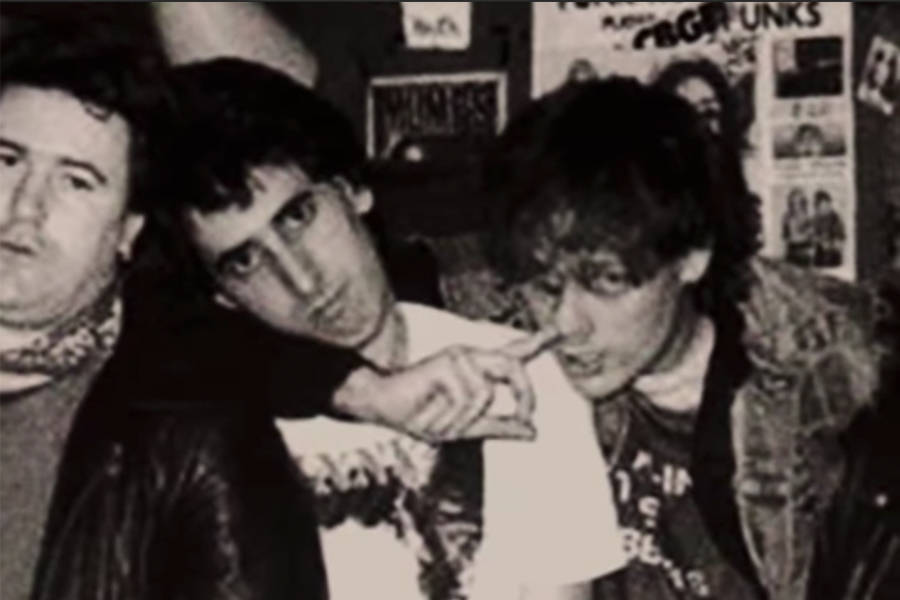 GG Allin and his brother Merle Jr.
Whether he was traumatized by his tumultuous early years or simply possessed a staunch disregard for the rules, GG Allin spent his high school years acting out. He formed several bands, cross-dressed at school, sold drugs, broke into houses, and generally lived life on his own terms. But even cross-dressing and breaking into homes and cars were nothing compared to the depravity that would ensue later in his life.
GG Allin Breaks Out
After graduating high school in Concord, Vt. in 1975, it's no surprise that GG Allin eschewed further education. Instead, he pursued his music, channeling his idols Alice Cooper and the Rolling Stones and breaking into the scene as a drummer. He performed with several bands and formed two with Merle Jr.
Eventually, in 1977, he found a permanent gig playing the drums and singing backup for punk rock band The Jabbers. Allin stayed with them until 1984 and put out his debut album Always Was, Is and Always Shall Be with them. In the mid-80s, tensions over Allin's unwillingness to compromise caused the band to split.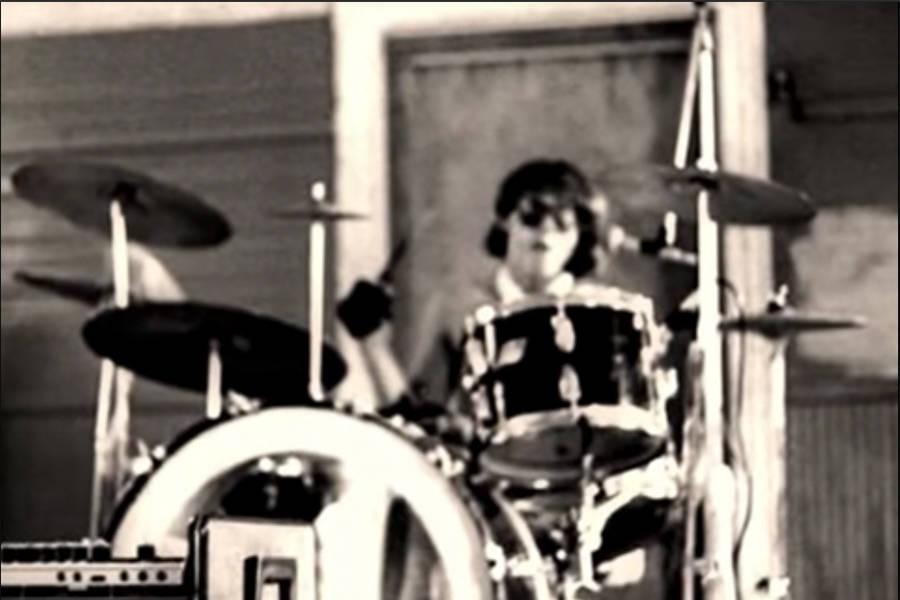 Allin drumming in one of his first bands.
Throughout the 1980s, Allin again found himself hopping from band to band. He appeared with The Cedar Street Sluts, The Scumfucs, and the Texas Nazis between 1982 and 1985, gaining a reputation for himself as a hardcore underground rocker. After a performance in Manchester, New Hampshire with the Cedar Street Sluts, he became known as "The Madman of Manchester."
In 1985, while performing a show in Peoria, Ill. with Bloody Mess & the Skabs, GG Allin took his madman title to the next level. As he stood in front of a crowd of hundreds, he defecated on stage.
"I was with him when he bought the Ex-Lax," frontman Bloody Mess recalled later. Unbeknownst to the crowd, the act was entirely premeditated. "Unfortunately, he ate it hours before the show, so he constantly had to hold it in or he would've shit before he got onstage.
"After he shit onstage, complete chaos broke out in the hall," Bloody Mess said. "All of the old men in charge of the hall went fucking nuts. Hundreds of confused punk kids were flipping out, running out the door, because the smell was incredible."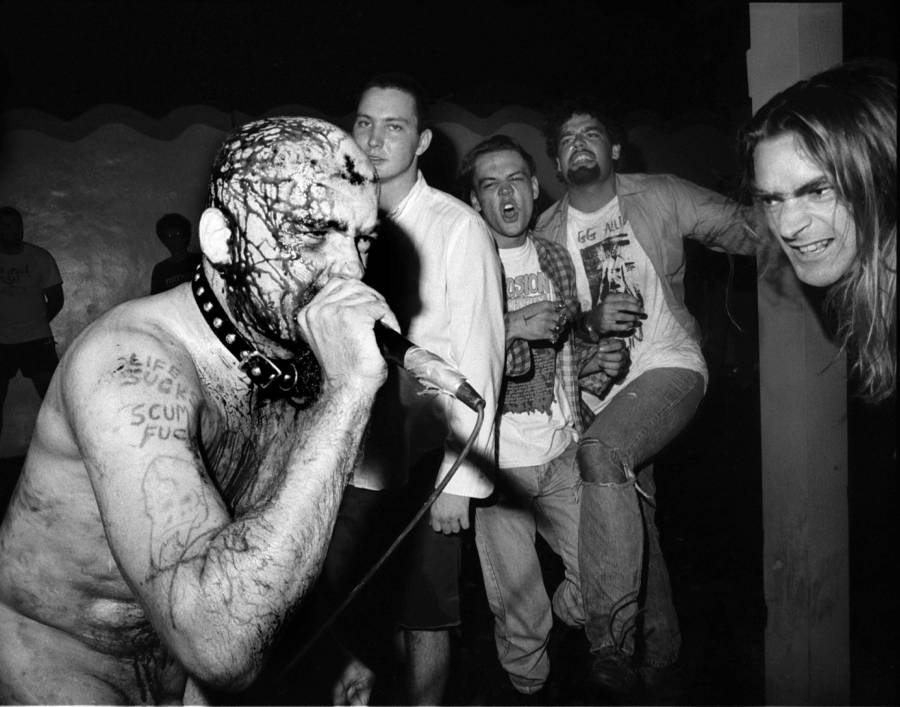 G.G. Allin in concert at the Club Spacefish in Orlando, Florida.
The reaction was evidently the one that GG Allin was going for, as defecation became a regular part of his stage act.
Before long, he wasn't just defecating on stage; he started eating the feces, smearing it around, and throwing it at audience members. He also incorporated blood into the act by pouring it onto his body before performing and by spraying it across the stage and audience.
Naturally, the destructive nature of his sets resulted in venues and equipment companies severing ties with Allin. Police were often called, especially when Allin began jumping into crowds and onto audience members. Several female concertgoers claimed he sexually assaulted them after the shows, and others claimed he attacked them during the set.
In 1989, he was sentenced to prison for assault. He admitted to cutting and burning a woman as well as drinking her blood. Ultimately he served 15 months in prison.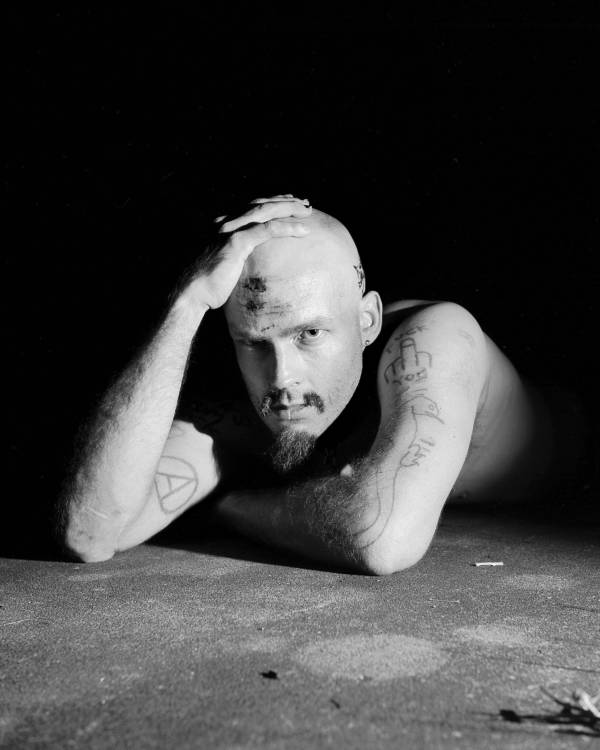 G.G. Allin
GG Allin carried the weight of his childhood throughout his life, constantly bucking authority to make up for the years under his father's crushing thumb. Those he was close to – though far and few between – saw his total embodiment of rock and roll as an escape from consumerism and commercialism, and as a desire to return rock and roll music to its rebellious roots.
Though the two seem polar opposites GG Allin idolized country music legend Hank Williams. Williams, like Allin, was a quiet loner with a persistent drinking habit, who traveled light and often, and wanted nothing more than to embody his music. Despite the fact that Allin's music never really took off, due to poor recording and distribution, he continued to perform, and draw crowds of hundreds of punk kids.
Allin performing in one of his last shows.
He found solace in the macabre, writing to and visiting serial killer John Wayne Gacy in prison and commissioning a painting from him to use for album cover art.
His fascination with serial killers seemed to encompass his own lifestyle.Beginning in 1989, he repeatedly stated he would commit suicide publicly during a performance, likely on Halloween.
Ultimately he didn't go out quite like he planned, but his death was still a public spectacle. In Manhattan on June 27, 1993, he cut the power to the venue he was performing at during his second song. In the dark, he trashed the club, stripped naked, and walked through the streets covered in blood and feces early into the next morning.
The crowd followed him until he reached the home of a friend, gathering outside as he entered. Once inside, he ingested copious amounts of heroin and died of an overdose. Whether the overdose was intentional or part of his promise to follow through on his pledge to kill himself remains a mystery. Throughout his life he made it clear he didn't intend to live to old age, regularly claiming that suicide would be his undoing.
"It's not so much wanting to die," he once said, "but controlling that moment, choosing your own way."
And in life – and possibly in death – he chose his own way.