Jimi Hendrix at the Monterey Pop Festival in 1967.
Hendrix was found unresponsive and covered in his own vomit on the morning of September 18, 1970, with sleeping pills and wine in his system. Some attributed his death to suicide, while others suspected foul play.
A performance by Jimi Hendrix was sure to be frenetic, full of energy, and wild.
He would rip fast on his guitar and oftentimes smash his acoustics to pieces at the end of a concert. Watching Jimi Hendrix play was more than listening to music, it was an experience. But the story of Jimi Hendrix's death case is as legendary as the musician's life, even still, nearly 50 years later.
On Sept. 18, 1970, the 27-year-old rocker inexplicably died in his sleep. Indeed, Jimi Hendrix's mysterious death rocked music fans and audiences and continues to do so today.
Jimi Hendrix's Childhood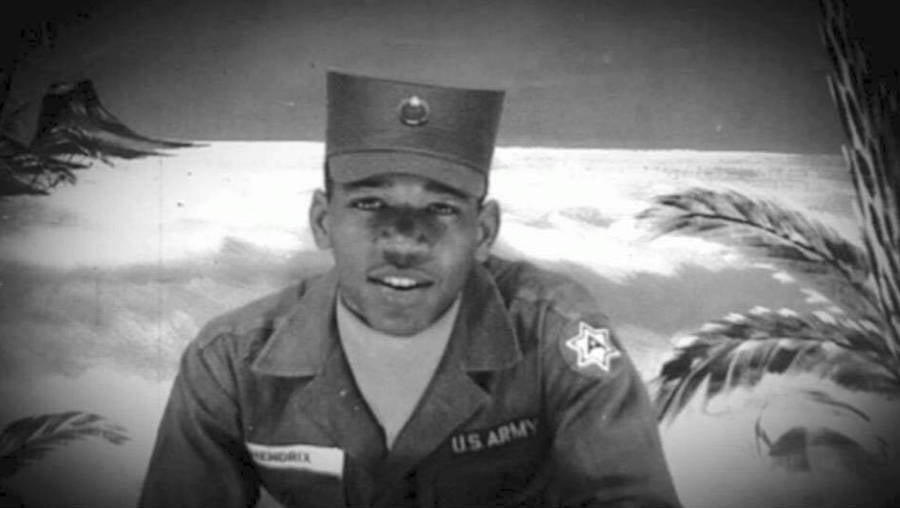 A 19-year-old Jimi Hendrix during his time in the 101st Airborne Division of the U.S. Army. 1961.
Hendrix was born James Marshall Hendrix on Nov. 27, in 1942 in Seattle, Washington. Hendrix took up a fascination with music early, and his father recalled tripping on a broom in Jimi's room that he had been using as a practice guitar. He received his first guitar at 11. He joined his first bands by age 13.
Oddly enough, Hendrix's early bandmates described him as shy and lacking much stage presence. They were utterly surprised to see him skyrocket as the brash rock star he would later become.
Hendrix eventually dropped out of high school and joined the U.S. Army. He found a way to sustains his love of music in the military by forming a band called the King Casuals.
After an honorable discharge in 1962, Hendrix started to tour and play with such big names as Little Richard, Jackie Wilson, and Wilson Pickett. He would electrify audiences with his raw talent, energy, and pure ability. Among his most famous performances was "The Star-Spangled Banner" at Woodstock in 1969.
Dannemann reported that she then left to buy cigarettes. When she returned, she said Hendrix was breathing but unconscious. She called paramedics who arrived on the scene at 11:27 a.m. local time, but it was too late to save him.
Paramedic Reg Jones said Hendrix was covered in vomit and his airway was completely closed all the way down into his lungs. He'd already been dead for some time. Doctors at a local hospital said, "On admission, he was obviously dead. He had no pulse, no heartbeat, and the attempt to resuscitate him was merely a formality."
The autopsy concluded Jimi Hendrix death to be caused by asphyxiation on his own vomit, which contained red wine — the same wine that he had shared with his girlfriend the night before.
Naturally, the truth behind the death of the passionate rock star didn't end with the autopsy.
The Controversies Surrounding Hendrix's Death
The coroner found no evidence of suicide although reports before the rocker's death say that he was having trouble sleeping and was disillusioned with the music industry. The pressures of playing well, going on tour and living up to his manager's expectations were getting to him.
The rocker didn't want all the pressure. He just wanted to play guitar — at least, so said his girlfriend and a musical associate.
The pressure mounted, his girlfriend said, and Jimi consumed nine of her Vesparax sleeping pills. That was 18 times the normal dose. It didn't help that his girlfriend at the time kept changing her story when she spoke to authorities. At first, she said he was fine, but then a later report said Hendrix took her sleeping pills.
Eric Burdon, a fellow musician and the last person to play alongside Hendrix at a concert, also said that the rocker's death was suicide. There was a poem, several pages in length, found near his body.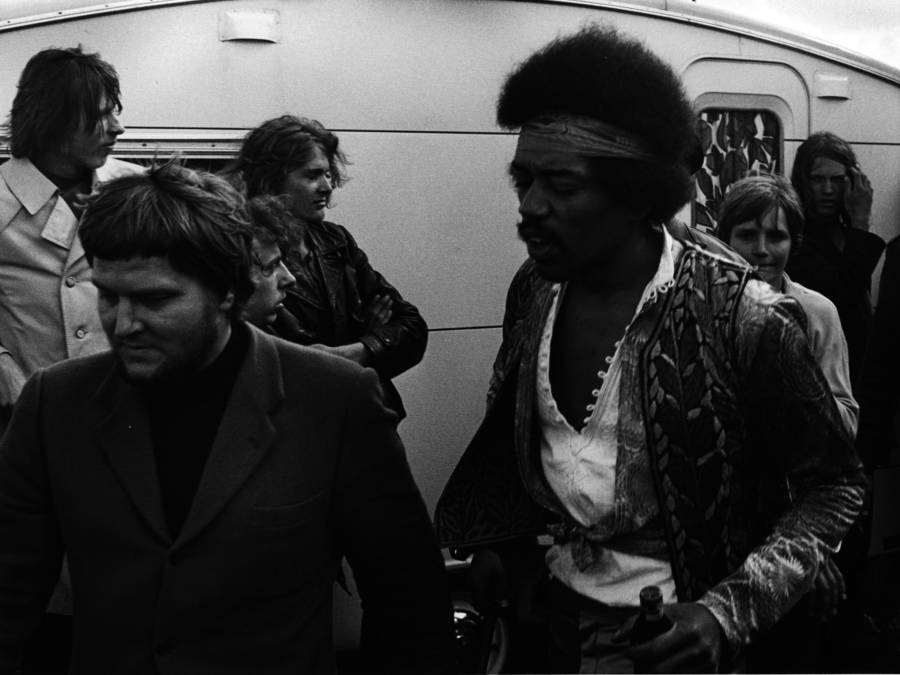 Jimi Hendrix backstage at the Love And Peace Festival on the Isle of Fehmarn, his final official concert appearance, on Sept. 6, 1970 in Germany.
"The poem just says the things Hendrix has always been saying, but to which nobody ever listened. It was a note of goodbye and a note of hello. I don't think Jimi committed suicide in a conventional way. He just decided to exit when he wanted to," Bourdon reported shortly after Hendrix's death.
But Michael Jeffery, Hendrix's personal manager at the time, denied the suicide connection.
"I don't believe it was suicide. I just don't believe Jimi Hendrix left Eric Burdon his legacy for him to carry on. Jimi Hendrix was a very unique individual. I've been going through a whole stack of papers, poems, and songs that Jimi had written, and I could show you 20 of them that could be interpreted as a suicide note."
A more controversial take on Hendrix's death came out in 2009 when James "Tappy" Wright, a Hendrix roadie, wrote a memoir of his days with the rock star. In it, Wright unleashed a bombshell revelation: he said that Jimi Hendrix was murdered.
Wright claimed that Hendrix's personal manager Jeffery admitted to stuffing those nine sleeping pills down Hendrix's throat. He then also made the semi-conscious rocker drink some red wine.
Supposedly, Jeffery said, "I had to do it, Tappy. You understand, don't you? I had to do it. You know damn well what I'm talking about. . . I was in London the night of Jimi's death and together with some old friends . . . we went round to Monika's hotel room, got a handful of pills and stuffed them into his mouth . . . then poured a few bottles of red wine deep into his windpipe. I had to do it. Jimi was worth much more to me dead than alive. That son of a bitch was going to leave me. If I lost him, I'd lose everything."
There was an alleged motive for Hendrix's manager. He took out a $2 million life insurance policy on the guitarist before he died. Jeffery then died in 1971. If he truly had collected the insurance policy, he didn't live long enough to enjoy it.
Fellow rock legend Janis Joplin would die that same year at the age of 27 as well. The following year saw the demise of musical all-star Jim Morrison, also at 27. Nirvana's Kurt Cobain and singer Amy Winehouse would later join that hideous 27 Club, too.
The Legacy Continues After Jimi Hendrix's Death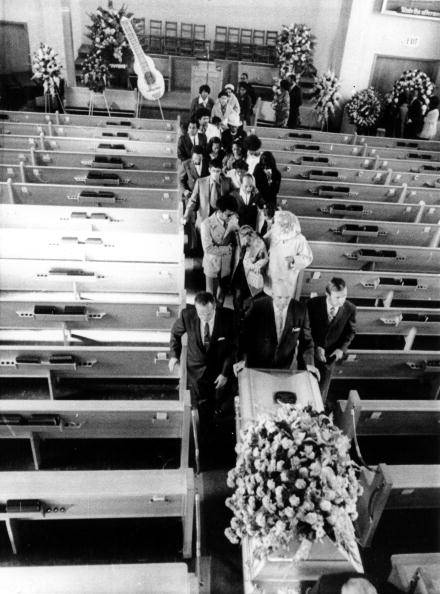 Jimi Hendrix's casket is followed from the church by members of his family and childhood friends on Oct. 1, 1970 in Seattle, Washington.
Hendrix told a reporter just a year before his death, "I tell you when I die I'm going to have a funeral. I'm going to have a jam session. And, knowing me, I'll probably get busted at my own funeral."
More than five decades later, Jimi Hendrix continues to influence and move the music community. Indeed, Paul McCartney, Eric Clapton, Steve Winwood, the Black Crows' Rich Robinson and Metallica's Kirk Hammett all say that Hendrix greatly influenced their music.
Despite the odd and eerie circumstances around Jimi Hendrix's death, the spirit of his music simply keeps on rockin' — which is exactly what the Purple Haze would have wanted all along.