Anti-blasphemy campaigners bring country to standstill in protest over acquittal of Bibi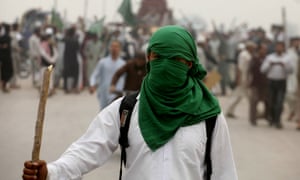 Thousands of Islamist protesters have brought Pakistan to a standstill, burning rickshaws, cars and lorries to protest against the acquittal of a Christian woman who spent eight years on death row on false charges of blasphemy.
Traffic jams held up ambulances and forced mothers to feed their babies by the side of the road, while authorities shut schools across most of the country.
Footage from the protests shows anti-blasphemy campaigners clubbing and throwing shoes at posters of Pakistan's chief justice and the new prime minister, Imran Khan, who on Wednesday night threatened a fierce government response if protesters did not disperse.
"We are ready to sacrifice our lives for this noble cause," one told the Guardian, "and have rejected whatever rubbish the prime minister said in his speech".
The landmark release of Asia Bibi, a 47-year-old farm labourer, has pitched the state into the latest of several battles with supporters of Tehreek-e-Labbaik Pakistan (TLP), a rabid, fast-growing political party that exists solely to punish blasphemers. Asia was charged with insulting the prophet Muhammad after she drank from a cup of water before passing it to Muslim fruit-pickers.
Police have so far shied away from arresting protesters and the powerful armed forces, which often appear to align with Islamists, have yet to issue a statement, despite TLP leaders daring to call for mutiny in its ranks.
On Thursday, rightwing religious organisations, including Jamaat-ud-Dawa (JUD), a charity founded by UN-designated terrorist Hafiz Saeed, and the Jamaat-Ulema-e-Islam, announced that they would join the TLP protest on Friday, in what could become an unmanageable conflagration.The new government of the Pakistan Tehreek-e-Insaf (PTI) appeared to backtrack on Thursday evening, sending a five-member negotiating team to meet Khadim Hussain Rizvi, the leader of the TLP. Government officials released contradictory statements on whether they had placed Asia on the exit control list, which would prevent her fleeing the country.
In public speeches, Rizvi has said his only demand is that the mother-of-five be put to death, the punishment for blasphemy under Pakistan's penal code. "Our sit-in will go on until the government accepts our demand," he told the Guardian in a phone interview, denying reports that the sit-in would soon be over.
Imran Khan is scheduled to return on 5 November from a diplomatic visit to China, Pakistan's oldest ally. Liberals hope that the prime minister, who echoed the TLP's rhetoric on the campaign trail and has already backed down before the group, will stick to his newfound principles under the most severe test of a turbulent first 10 weeks in power.
"It's up in the air," said analyst Fasi Zaka. "You still get the feeling they are figuring out what to do."