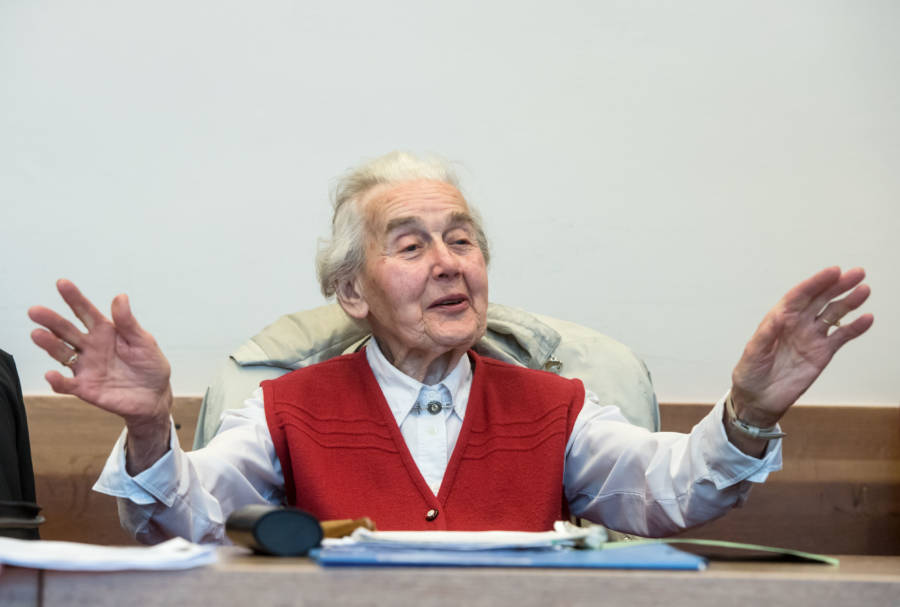 ]
Ursula Haverbeck in the court room of the District Court in Detmold, Germany, Nov. 23, 2017.
Ursula Haverbeck stood by her husband, Werner Georg Haverbeck who was one of the Nazi Party's top officials, for more than 50 years. The "Nazi Oma" repeatedly denied the Holocaust ever existed even though she was too young to serve Nazi Germany during World War II. But in 2018, at the age of 90, her Neo-Nazi days finally caught up with her.
The Haverbecks Establish Themselves
Haverbeck was born in Hesse, Germany, in 1928. Somewhere in the 1960s, she met and fell in love with her future husband: Nazi Werner Georg Haverbeck. Before the war broke out, Georg Haverbeck was instrumental in the party's national leadership. He was also a student of Rudolf Hess, one of Adolf Hitler's top deputies in the Nazi Party.
Werner Haverbeck used several organizations to try to keep the spirit of the Nazi Party alive once the war ended.
Together, he and Ursula founded the Collegium Humanum in 1963.
The Collegium Humanum was meant to disseminate neo-Nazi extremistviews and to downplay the role of the Holocaust in Nazi Germany.
Ursula Haverbeck promoted the "Auschwitz lie" which argued that the concentration camp was not, in fact, an extermination facility but a mere labor camp. She has declared the Holocaust "the biggest and most sustainable lie in history."
The Haverbecks were also a part of the Ecological-Democratic Party until 1982. This group, in a similar fashion to the Collegium, spread right-wing lies about revisionist history. They used every opportunity they could get to deny that the Holocaust ever happened.
The Haverbeck's openly shared their right-wing views with organization members starting in the 1980s until well into the 2000s, when finally the German authorities shut it down in 2008. But this was not before Ursula Haverbeck could make her far-right ideas flourish and fester. Even after her husband died in 1999, she continued his work.
And even after she faced prosecution, she was supported by Neo-Nazis nationwide.
Ursula Haverbeck's Views
The video below shows Ursula Haverbeck using statistics and numbers to back up her anti-Holocaust claims.
At one point, she says a noted German editor, Fritjof Meyer of Der Spiegel, published a report in May of 2002 claiming that no Jews were gassed at Auschwitz at all. She claims that Meyer said that just 365,000 people, not 1.1 million, met their deaths in a gas chamber just outside of Auschwitz rather than in the concentration camp itself.
The old woman, often declared by German media as the "Nazi Grandma," didn't act alone. Far-right magazines and publications gave Haverbeck a voice for her views.
She was a frequent contributor to Stimme des Reiches (Voice of the Empire), a right-wing magazine that expounds on Nazi views.
In 2015, at the trial of Oskar Groening, the "accountant of Auschwitz," Haverbeck distributed a leaflet entitled "Mass-murder in the concentration camp Auschwitz?"
Haverbeck also wrote letters to politicians. She penned a letter to the mayor of Detmold, Rainer Heller, in which she tried to convince him of the "Auschwitz lie".
This landed her into legal trouble, finally.
German courts tried and convicted Haverbeck of inciting hatred in 2016. Denying the Holocaust in Germany has been considered a crime since 1985 and can carry a maximum prison sentence of up to five years.
Haverbeck was initially sentenced to eight months in prison at this 2016 trial, but after distributing a pamphlet entitled "Only the truth will set you free" to the judge, prosecutors, and even to reporters in attendance at her trial, she was given an additional 10 months on her sentence.
Haverbeck was in her late 80s at the time.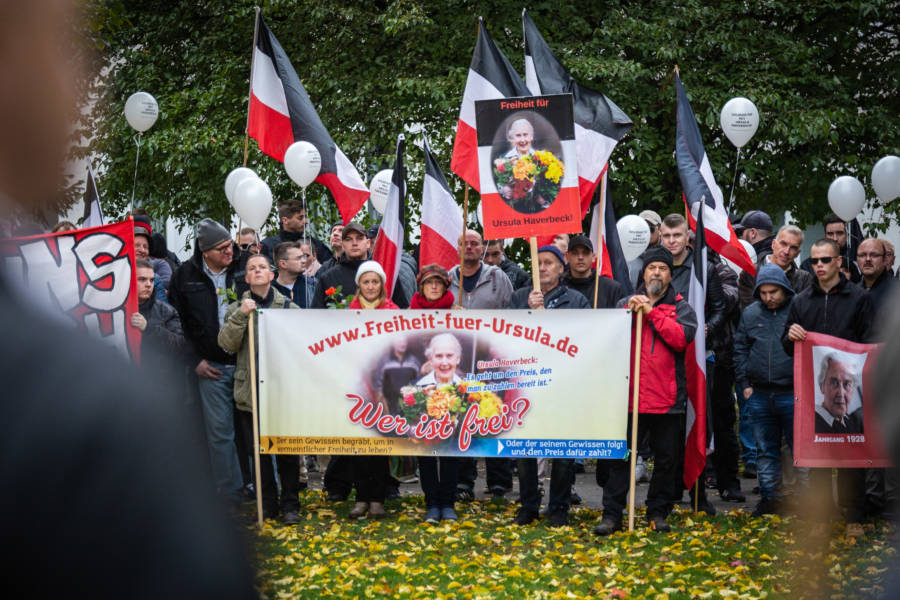 About 500 Neo-Nazis demonstrated in Bielefeld, Germany, Nov. 10, 2018 in solidarity with Ursula Haverbeck.
On top of this charge, Haverbeck received an additional sentence of six months in prison by a district court in Berlin for claiming at a public event that Holocaust gas chambers "were not real." Later that same year, she was finally sentenced to a total of two years by a regional court in Lower Saxony.
She later appealed all of her convictions, which delayed her prison sentence, but this was ultimately denied.
"Nazi Grandma" Is Finally Off to Prison
Ursula Haverbeck's appeals ran out in 2018 and she was expected to begin her two-year prison term, only she never showed up at the prison.
Authorities feared that she had fled when neither she nor her car was initially found at her home. Mail had piled up at the home as well.
Fortunately, the now 90-year-old returned home and police finally arrested her in May of 2018. She is currently a couple months into her two-year sentence in the town of Bielefeld.